Launched in 2011, Estimize is an open financial estimates platform designed to collect forward looking financial estimates from independent, buy-side, and sell-side analysts, along with those of private investors and academics.
By sourcing estimates from a diverse community of individuals, Estimize provides a more accurate, more timely, and more representative view of expectations compared to sell side only data sets which suffer from several severe biases.
Currently, 88,550 analysts contribute to Estimize, resulting in coverage on over 2,200 stocks and 80 economic indicators each quarter. The Estimize consensus has proven more accurate than comparable sell side data sets over 74% of the time and by 15% on average.
Contributors to the Estimize platform receive free access to view our data in return for their honest pseudonymous contributions. Estimize manages the honesty and quality of contributions via several machine learning algos and statistical methods, along with a human layer of review (human brains are still useful!). Estimize scores and ranks analysts, providing them with an easy way to store, benchmark, and measure their own accuracy.
Estimize represents the market's true consensus, with our data regularly referenced in notable financial media sources such as Bloomberg, The Wall Street Journal, CNN Money, The Street, Forbes, Barron's, Investors Business Daily and Business Week, amongst others.
Our clients include institutional managers running fully systematic quantitative strategies, fundamental managers running quantamental, long/short, and long only strategies, as well as macro investors and vol traders. Our data sets and factor models can be purchased via our real time API/FTP, or our front end platform which includes advanced analytics, screening tools, and emails.
We provide an API for commercial, academic, and third-party developer use. Please fill out this form and we'll be in touch shortly.
If you have any questions, please visit the FAQ, contact members of the Estimize team below, or shoot us a chat.
Our Leadership Team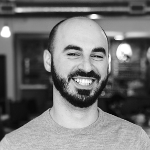 Leigh Drogen
Founder and CEO
Leigh is the founder and CEO of Estimize. Prior to founding Estimize, Leigh ran Surfview Capital, a New York based quantitative investment management firm trading medium frequency momentum strategies. He was also an early member of the team at StockTwits where he worked on product and business development. When he's not staring at rectangular lightboxes, Leigh can be found on the ice rink playing hockey, behind a grill, or off in search of waves to surf around the world.
Brian Smith
CTO
Brian is a full-stack software engineer and entrepreneur: founder of QRawr, VP of Engineering at KidZui, and former minion at Google. The rare moments when not coding or reading are usually occupied by beer, food or travel (occasionally all three at once).
Christine Short
Director of Media and Public Relations
Christine is a corporate earnings expert, previously holding director-level roles at both Thomson Reuters and S&P Capital IQ. Her research uses fundamental data to determine the health of US companies and the broader economy, and has been widely featured by many top-tier media outlets. In her spare time, Christine can be found catching the latest flick at the IFC Center, running along the East River, or scoping out canines at NYC's many dog parks.
Josh Dulberger
Product and Analytics
@jidulberger
josh@estimize.com
Josh has a background in cognitive science and his post-academic life has focused on the intersection of data, technology, and behavior. He founded liftninja.com, and has developed product strategy for a number of startups, most recently as part of his role as lead data scientist for Blue Jeans Network. Josh enjoys music, whiskey, and using third party tools in all development efforts.
Advisors
Matt Wallaert
Matt is a behavioral scientist and technologist who has advocated for transparent financial data since his role as Lead Scientist at Thrive (acquired by LendingTree) let him get an inside look at the predictive power of science based on literally millions of transactions. He's worked with organizations as diverse as the AARP, Treasury Department, American Express, TED, and Playboy. When he isn't busy helping startups create behavior change, he's playing lasertag with other founders or in the kitchen, cooking for a crowd.
Steve Miller
Steve's experience covers a range of work in venture capital, finance, and corporate development. He has experience working for high-tech companies as an equity investor, debt provider and operating executive. Steve currently works as the Chief Financial Officer of Warby Parker, a ground breaking e-commerce and fashion company. Previously, he ran finance and corporate development for Majestic Research for 5 years, where he led the successful sale of the company to Investment Technology Group (NYSE:ITG).
Vinesh Jha
Vinesh runs ExtractAlpha, a boutique advisory firm in Hong Kong which is foused on bringing analytical rigor to the analysis and marketing of new data sets for the capital markets. Vinesh was the Director of Quantitative Research at StarMine, where he developed industry leading metrics of sell side analyst performance as well as alpha signals based on analyst, fundamental, and other data sources. Subsequently he developed trading signals for proprietary trading desks at Merrill Lynch and Morgan Stanley, and most recently as an Excecutive Director at PDT Partners, a spinoff of Morgan Stanley.
Wayne Mulligan
Wayne is a serial entrepreneur in the Financial Media and Technology space. Most recently he was CEO of The Institute for Individual Investors (IFII), a financial education & publishing company. At IFII, he helped grow sales to $10 million and spearheaded the company's sale to market-leader Agora Publishing in 2011. Wayne began his career in equity sales and graduated from Columbia University.