Contact Leigh Drogen at leigh@estimize.com with any partnership opportunities.
---
Access our data through our partners
Estimize data is now also available via our partners which include charting providers, financial data marketplaces, and platforms.
ChartIQ is the only stock charting program on the market that includes a visualization of earnings and revenue – both historical, and future estimates. As you evaluate your positions going in to earnings release season, understanding the market expectation (both Wall St Consensus and the crowd, via Estimize) is critical to managing risk and seizing upside opportunity.
OTAS is the only specialist provider of trader intelligence and decision support analytics that is powered by artificial intelligence and big-data analysis. OTAS Apps can be delivered to your desktop or mobile, and the OTAS API makes it easy to integrate into existing applications. The Estimize partnership will provide mutual clients with unique and predictive analytics at the point of decision making.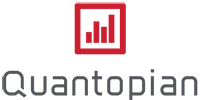 Quantopian is an algorithmic trading platform providing users with tools to learn, create, and trade their algorithmic strategies. Estimize historical data is available for back testing here.
---
View our data and content
---
See what users of our data have to say
Estimize data is used by a diverse group of hedge funds, asset managers, professional and individual traders, academics, and more.
We find Estimize is more accurate than IBES estimates taken one week before the announcement date.